To celebrate the end of summer, the go to after Labor Day party is the annual Dance Now Festival, now in its 23rd season and since 2011 at Joe's Pub. This year's festival took place from September 5-8. I always find it a mixed bag affair; you never know which of the emerging and established choreographers, including Dance Now veterans and festival newbies, will impress and which will merit the gong, but the fun is in the discovery.

Over four nights, ten performers on each night take up the Dance Now challenge to present a clear, concise artistic statement in a five-minute or less work for the intimate cabaret stage at Joe's Pub. The festival producers, Robin Staff, Sydney Skybetter and Tamara Greenfield, select the overall winner and the other nine artists who will then participate in an Encore performance, this year on Thursday, September 27 at 7 p.m., also at Joe's Pub. The winner receives a $1,500 development stipend and a free week-long creative residency at DANCE NOW Silo on Kirkland Farm in Bucks County, Pa. This year's challenge winner was Brendan Drake ("This is Desire Part II," premiere), a piece he choreographed and performed in with three other dancers on the first night. I could only go on Friday and Saturday, the third and fourth nights, so I did not see it. Here's a roundup of some of the performers I did see, with some awards of my own.

Friday started out with Claire Porter/Portables "Lipstick," 2017, in which Porter sat on a small bench, looked through her bag and pulled out different shades of lipstick, commenting on each color, such as Tanning Bed Turpitude, Collusion Gloss, Runaway Reality, Orange Carnage. Then she smeared one all over her lips, face and neck. I surmise it was a political statement. Porter is one of the Encore recipients but earns my "overrated" award.

Laja Field and Martin Durov ("Unearthed," excerpt, 2018) deserve "exceptional," for their power and physicality, dynamic, daring turns, lifts and jumps, as does Jamal Jackson, who presented "Norman," 2017, a powerful solo, with his flexible body and stage presence, accompanied by a narrative relating the journey of a Ugandan boy soldier, with pulsating African rhythms composed by Lynnette R. Freeman. Kudos for his well-deserved Encore.

"Great job" solo: The remarkable Christal Brown/INSPIRIT ("Steps and Stages," premiere), "making meaning and moving through all life has to offer," she wrote in the program notes. The narrative related her emergence as the matriarch of her family and her 30-plus years as a dancer, which is 30 years of pieces to put together. Advising us with well-chosen words in steps and stages.

Two of Friday's "fun" awards go to Cleo Mack Dance Collective's premiere "Exhibit," in which four women in lumpy rock outfits covering torso and on head (looked like intestines or growths) gaily danced to "I Feel Pretty," and Subject: Matter's "We Fear For Your Life," 2017, a smooth, well-oiled tap dancing quartet, music: "Bert the Turtle," the tappers making Encore.

On both Friday and Saturday nights, dendy/donovan projects presented its premiere excerpt "Made in America" under Mark Dendy's direction and choreography in collaboration with the dancers. In the piece, Stephen Donovan wore white clown makeup, a bright orange wig, big red lips and red nose, with flippers on his feet. Later, he removed the wig and tucked it into the back of his suit, where it peeked out like a rabbit tail, and put on a full-faced pig mask. Donovan espoused on current political woes while constantly moving and chattering in a clipped English accent, the talented trio dancing out his words. With this piece, Dendy, always imaginative and eccentric, delivered truth to power even when one couldn't always understand what Donovan was saying.

On Saturday, in the "miked-up" category, "fleeting things, 2018," Justin Bass and Marty Buhler performed to Dmitri Peskov's choreography and original text, in addition to "The More Loving One" by W.H. Auden. With standing mikes, they spoke in whispers about mac and cheese and AIDS. "I'm not sure my story has a point," one said. I wasn't sure either. In "Five Things," premiere (Megan Williams Dance Projects), choreographed by Williams, she and Kristen Foote gave advice, like "human emotions cannot be judged" and "you can't enjoy yourself forever." Words to dance by.

Wallie Wolfgruber poignantly performed "Hatch," 1996, on towering platform shoes in a steel grey skin-tight unitard, her knees pressed against each other to form an open "v." While not moving her feet, she slowly curved and arched her arms and bent her flexible torso into varying positions.

In "wacky prop" category, "Trio (Excerpt from Time to Compile)," 2018, Catie Cuan x RAD Lab, was a duet (one dancer missing), choreographed by Cuan and Amy LaViers. The duo danced mostly on a rotating Lazy Susan, except when they weren't and had some kind of push-pull conflict. They used cell phone flashlights as lighting and manipulated a small robot that blinked and moved its arms and rotated with them, batteries included.

For "consistency in excellence," "Atomic No. 7," premiere, was another remarkable collaboration by Shaina Branfman Baira and Bryan Strimpel Baira, well deserved 2014 Dance Now challenge winners for "Bench Duet." Not sure what the purple glove that each wore on one hand was about, but they dance like nobody's business.

To the other soloists, duets and trios, the "no snub intended" award. You were all impressive.
Claire Porter / PORTABLES
Lipstick
Pictured: Claire Porter
Photo © & courtesy of Yi-Chun Wu
---
LAJAMARTIN
Unearthed (Excerpt)
Pictured: Laja Field and Martin Durov
Photo © & courtesy of Yi-Chun Wu
---
Riley Watts
Zauberer
Pictured: Riley Watts
Photo © & courtesy of Yi-Chun Wu
---
Catie Cuan x RAD Lab
Trio (Excerpt from Time to Compile)
Performed by Catie Cuan, Amy LaViers, and Ishaan Pakrasi
Photo © & courtesy of Yi-Chun Wu
---
Khaleah London/LAYERS
Unencumbered
Pictured: Khaleah London
Photo © & courtesy of Yi-Chun Wu
---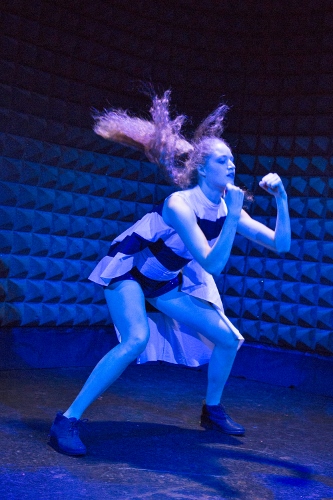 Kora Radella
Wrest
Pictured: Sarah Lass
Photo © & courtesy of Yi-Chun Wu
---
PASSION FRUIT DANCE COMPANY
Dance Within Your Dance
Choreographed by Tatiana Desardouin
Pictured: Tatiana Desardouin, Mai Lê, Lauriane Ogay
Photo © & courtesy of Yi-Chun Wu
---
Wallie Wolfgruber
Choreography: Roderick George
Blood. LINE
Pictured: Wallie Wolfgruber
Photo © & courtesy of Yi-Chun Wu